Santa Fe Plaza has been the commercial, social and political center of Santa Fe since around 1610, when it was established by Don Pedro de Peralta. The original Plaza was a presidio (fort) surrounded by a large defensive wall that enclosed residences, barracks, a chapel, a prison and the Governor's palace. Eventually the wall gave way to large houses built by high-ranking Spanish officers and politicians. In 1822, the famed Santa Fe Trail, a trade route from St. Louis, Missouri to New Mexico, ended at the Plaza. The "End of the Santa Fe Trail" marker (placed by the Daughters of American Revolution) is on the southeast corner of the Plaza. It was dedicated in 1911.
The structures that surround the Plaza were built in the Pueblo, Spanish and Territorial styles that reflect its diverse history. Among the most noted are the original palacio, the Palace of the Governors (built between 1610 and 1612), the La Fonda Hotel, St. Francis Cathedral, and San Miguel Mission (a noted landmark circa 1640), which is said to be the oldest church in the United States.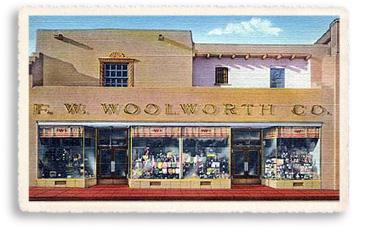 Other notable landmarks on or near the Plaza include: the historical Spitz Clock, which sits on the northwest corner close to the Fine Arts Museum; the Catron Building on the east side (built in the 1890s); and the First National Bank Building to the west (built in the 1880s).

The Indian War Memorial monument in the center of the Plaza commemorates an important aspect of the rich history and culture of Santa Fe. The inscription originally had a reference to "Savage Indians," but some of the engraving has been chipped away, with it now reading only "Indians." The monument was erected during times of great strife between the three cultures that came together in Santa Fe, but once peace was firmly established, the wording on the monument no longer reflected the true atmosphere of life in the area.

The Santa Fe Plaza is listed on the National Registry of Historic Places. It is bound by San Francisco Street and Washington, East Palace, and Lincoln Avenues in downtown Santa Fe.


Santa Fe Plaza Webcam

History

Culture

Shopping